A 5-Star performance every time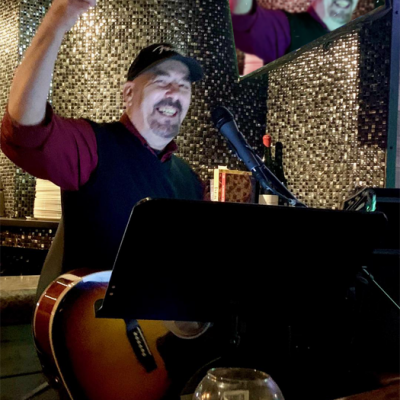 Hal acquired his performance chops early on when he left the Philadelphia PA area to be a singing waiter in Santa Monica, California in the late '70s. Since then, he has performed both covers and originals in bands and as a solo artist across a wide array of venues and events.  Some of the people he's shared the stage with include Andy Kahan of The Turtles, Bob Malone (John Fogerty's keyboardist), Lisa Nemzo, Bobby Kimball of Toto, Michael McDonald and others. He's performed personally for Johnny Cash, Jerry Mathers (yes – the Beaver!), Steve Garvey of the LA Dodgers, Donny Most from Happy Days and others. Hal's songs have been performed in several live productions, received reviews in Hollywood Reporter and at one point, he was a nominee for best songwriter for one of the plays he penned the songs for by The San Fernando Valley Theater League in 1986.
He performs a wide variety of songs and styles on acoustic and electric guitars, both as a solo performer or one-man-band. He's personable, talented, appealing to all ages and can provide a great show in any environment. Whether its a bar or a banquet hall, a wedding, anniversary, birthday or backyard bash, you'll find Hal to be most accommodating performing all your favorite rock, pop, soul and country and more!

If you're looking for an accomplished ukulele player to perform an island-style party, Hal Aaron is the Big Kahuna. He performs everything from "Over the Rainbow/Wonderful World" (Iz style) to Christmas favorites such as Mele Kalikimaka and pop hits such as Hey Soul Sister and Just The Way You Are by Bruno Mars. For best results, request Hal bring his uke along when you book him.